Tesla has managed to dabble in various markets in the automobile industry, and it's now plunging head-first into the semi truck industry. This announcement has been put off and delayed two times, so the anticipation for this truck has risen with every passing day. But now, all the talk is over because Elon Musk and Tesla have finally released its new semi to the world. What should you know about this mammoth machine?
500 miles
Yes. You read that correctly. Tesla semi has the capability to go 500 miles on a single charge with the maximum amount of weight and at highway speeds. This may have been the biggest shock with the announcement of the new truck. This enables the truck to not just be used locally, but can be used for longer routes as well.
Quickest Semi Ever?
Musk boasted that his new semi can go 0-60 in 5 seconds without a trailer attached, which is three times faster than a diesel truck. With 80,000 pounds attached, this beast can reach 60 MPH in just 20 seconds, making it five times faster than diesel in that regard. This semi can also climb five percent grades at a 65 MPH pace, beating diesel which can only muster 45 MPH.
Needless to say, this is one fast truck.
Charged Up
One of the biggest questions and concerns about an electric truck before this release was how would truckers charge their truck and how long would that take to charge it. Although the truck is supposedly supposed to go 500 miles, Tesla wants "megachargers" located all around the world for trucker's convenience. Worried about how long it may take to charge this truck? It can charge up to 80 percent, or 400 miles, in just 30 minutes.
New look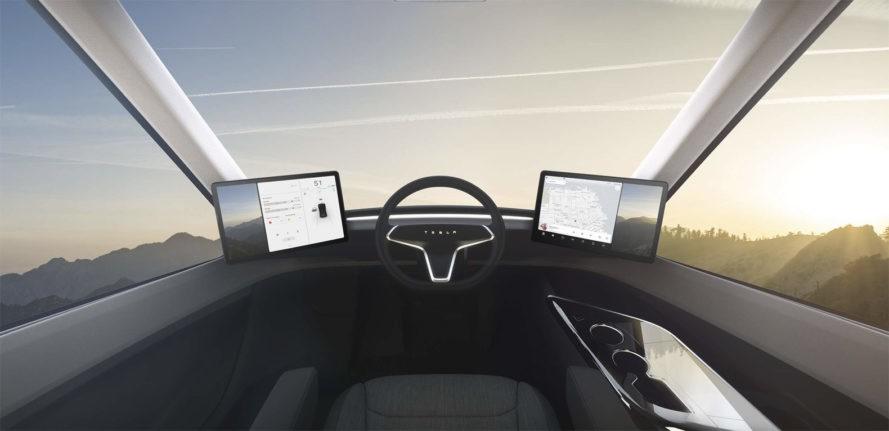 One of the most eye-catching features on this truck is the centered driving seat. Musk wanted the truck to cater to the driver, so the centered seat is supposed to give the trucker more control of the truck. Not only that, but the truck also poses a much more simplistic, minimalistic look on the inside. It only features a couple of touch screens, a cabin that you can stand all the way up in, and a wide windshield with side cameras that help eliminate blind spots.
Savings
Outside the environmental impact, savings is one of Tesla's biggest bragging points. Musk stated that using a Tesla Semi would make an immediate savings starting the first day. With taking all of the maintenance factors, fuel and other expense costs, diesel is averaging about $1.51/mile while Tesla is $1.26/mile.
The production of these semis will begin in 2019, and you can put down a deposit now of $5,000 to reserve yourself one. This will make an impact on the trucking industry, for the better or the worse. The future of trucking may be closer than we think.
Follow Us
Sign Up To Subscribe to New Blog Posts